May Birthstone Gold Wire Bracelet with Dark Green Charm
May Birthstone Gold Wire Bangle Bracelet with Dark Green Charm

Item:  Bracelet
Color:  Dark Green, Gold
Metal: Alloy, Lead & Nickle Free
Material:
Glass, Faux Emerald
Theme:
 May Birthstone
Measurements are approximate.  Sold as One Individual Bracelet.



May Birthstone: Emerald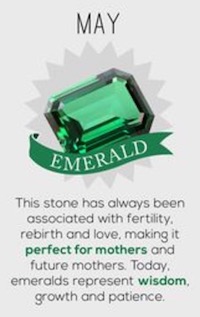 The rebirth that begins in April reaches its fullest flowering in May. The rich green of its emerald birthstone is symbolic of the flowering of the world. Connected heavily to Venus in ancient Roman times, love, beauty, and wisdom are heavily connected with this stone and those born in this month.
Expect those born in May to show a lot of patience to those around them and to be surprisingly insightful in difficult situations. Turn to those with the emerald birthstone in times of crisis and when you need a friend who will stand tall beside you in tough times.